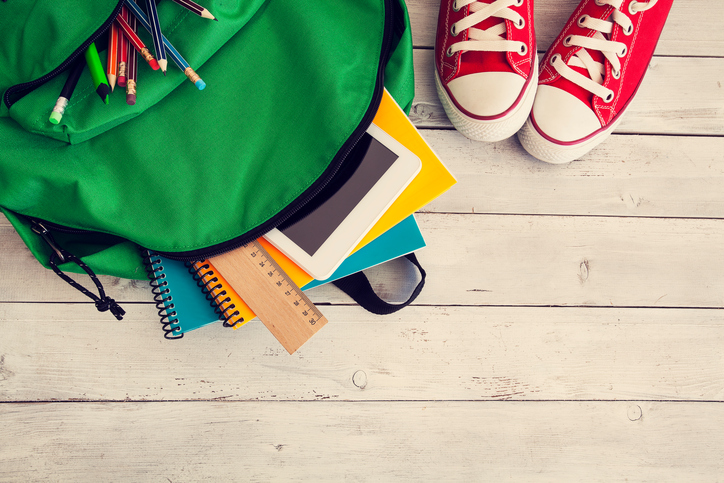 Back-to-school season can be a crazy, hectic time, especially if you have more than one child at more than one school. Regardless of how many kids you have or how old they are, every parent can use a little help during the new school season. USAGov offers the following tips to help:
Schedule time with teachers. Keep an open dialog with school staff to help your children thrive.
Get those shots. Some schools require immunization records for entry. Find out if your child needs any vaccines before school starts.
Ease into the school routine. A good night's sleep is key to a successful school day. Preschoolers need 11-12 hours of sleep a night, school-age children need at least 10 hours, while teens need 9-10 hours.
Pack a healthy and safe lunch. Choose a balanced meal for your children's lunchbox and make sure you keep hot foods hot and cold foods cold. Low-income families may qualify for free or reduced price school meals.
Shop smart. Some states have sales tax holidays in August. Make a list, know what you need, and shop the sales. Knowing where the bargains are will help you save.
Talk to your kids about online safety. Identity theft, cyberbullying, or inappropriate behavior can happen online. Teach your children about online safety as they use social media to connect with old and new friends at school.
Plan and practice how to get to school. If your kids' school or school system provides bus transportation, find the nearest stop to your home and the pickup and drop-off times. Teach your kids to be safe whether by car, bus, bicycle, or walking.
Teach time management. Leisure time, sports, and "screen time" can interfere with homework. Keep your family's schedule on time with these tips.
Make sure kids are insured. Your child could qualify for free or low-cost insurance through Medicaid or the Children's Health Insurance Program (CHIP).
Listen to your kids. Anxiety and nerves can take over, so provide a safe environment at home and in the classroom. Talk to kids about bullying and what to do if they encounter it.
Get tax credits on tuition. Check out the IRS website for tips to see what kind of tax credits you can get based on the price of education.
Learn money management. No student wants to interrupt his or her education because of financial troubles. Visit USA.gov to get age-appropriate checklists to help students manage finances while in elementary school, high school, or college.
Source: USAGov

Thanks for visiting my Blog site. If you would like to discuss this topic with me or get more information please contact me by calling 919-247-4667 or emailing me at Tim@TheTrianglesBroker.com. And you can always visit my personal real estate website for lots of additional information and to search for homes at www.TheTrianglesBroker.com or www.BuyAndSelllingTriangleHomes.com McBrayer – The Triangles Broker.
Reprinted with permission from RISMedia. ©2017. All rights reserved.